School HVAC Test & Balance Solutions
HVAC technicians test, adjust, and balance many different types of indoor environments, from clean rooms and hospitals to schools and offices. Within schools, it's important that the HVAC system be run thoroughly and efficiently in order to promote learning and health, and to keep expenses down (allowing funds to be channeled into other educational avenues). Proper distribution of air flow can increase comfort, lower energy bills, and maintain a healthy indoor air quality.
Products focused on both the understanding and balancing of air flow can be used for predictive maintenance, troubleshooting, and maintaining well-ventilated spaces within schools. Dwyer® products offer the perfect balance of functionality, safety, and durability.
Air Flow
The monitoring of air flow will allow schools to maintain adequate conditioned air in school spaces, resulting in energy savings related to overcooling or overheating. 
The SMART Air Hood® balancing instrument, Series SAH, was designed to be lightweight and easily maneuverable. Because it's on a pole, it can be raised and lowered without extra strain on your back and shoulders. The hood can be set up on a diffuser without having to hold it in place, making it possible for a single operator to balance a branch faster than traditional teams.
Dwyer offers mobile apps for both iOS and Android devices if you'd like to sync your phone or tablet with the SAH. This allows you to use your phone/tablet as a remote control and measurement tool.
The Model 160G air flow grid utilizes 16 sensing points to provide precision sensing across its 16.5″ (41.9 cm) length and width. The ball pivot joint and tightening nut allows the user to position the sensing grid at any angle in any direction for ease of use in hard to reach locations. 
Air Velocity
Measuring the air velocity will allow schools to determine the air change frequency from the air entering and exiting the space, and make adjustments to their ventilation system as needed, increasing indoor air quality.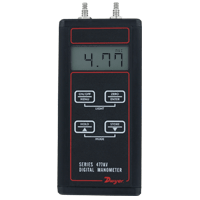 Dwyer's Series 477AV manometers were designed with HVAC technicians in mind to ensure longevity on even the roughest and toughest jobs. Each of our handheld digital manometers has a rugged aluminum case, which protects the device during transport and use. For extra protection, a rubber boot is available which also has a magnetic backing so you can place the unit on a duct and free up a hand during use. Our manometers have a large, easy-to-read backlit display for use in dark areas. 
Our Series 160 pitot tubes are constructed from corrosion resistant stainless steel, with permanently etched depth graduations for a lifetime of service. The static pressure port is parallel to the sensing tube to allow quick, easy alignment of the tube with air flow.
Pressure
Monitoring differential and static pressures can alert to system malfunctions and decreased HVAC efficiency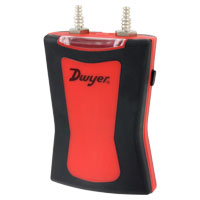 The Series DP3 wireless differential pressure module is used in conjunction with the Dwyer Mobile Meter® app to view pressure drop across filters, static pressure in ducts, and velocity pressures from pitot tubes or air flow stations. It has a rugged case, which allows for a drop from up to 10 feet without breaking. The DP3 has a cutout on the back of each unit which fits a pitot tube, allowing you to hold both with one hand. If you are measuring face air velocity rather than a traverse reading, the DP3 also magnetizes to the Model 160G air flow grid. Some technicians run our apps from a mobile device on an arm band, which helps to further free up hands when climbing ladders or using power tools.
Air Quality
Accurately circulated air can increase occupant comfort and reduce the formation of mold and mildew, leading to safer school spaces.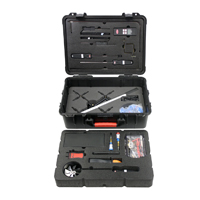 The TABKIT test, adjust, and balance kit has everything a balancing technician needs in a single case. All essential air, water, temperature, humidity, and electrical test instruments are included in this kit, creating the ultimate air and water balancing solution.
Dwyer can provide HVAC technicians with the handheld and permanent testing solutions needed to test, adjust, and balance school spaces. With a deeper understanding of a space's air distribution, technicians can validate equipment performance while increasing its life expectancy, increasing energy efficiency, and maintaining better air quality.
If you have any questions about selecting products for your application, you can email us at info@signal.com.my or info@signal2u.co .
You can buy products directly from our website www.signal.com.my or you can also contact us for products not displayed on our website and we can email you a quotation for the products if needed.