Semiconductor Tool Parameter Monitoring
A semiconductor transistor is a part with specific electronic properties that allow it to serve as a component in microchips and modern electronics like phones, laptops, and more. As these components are small and require precise manufacturing methods, there are facilities dedicated to their manufacture.
These facilities consist of several levels including air handlers and scrubbers for exhaust, HEPA room, fab cleanroom, and subfab areas. The control of pressure, flow, and temperature within the facility is essential.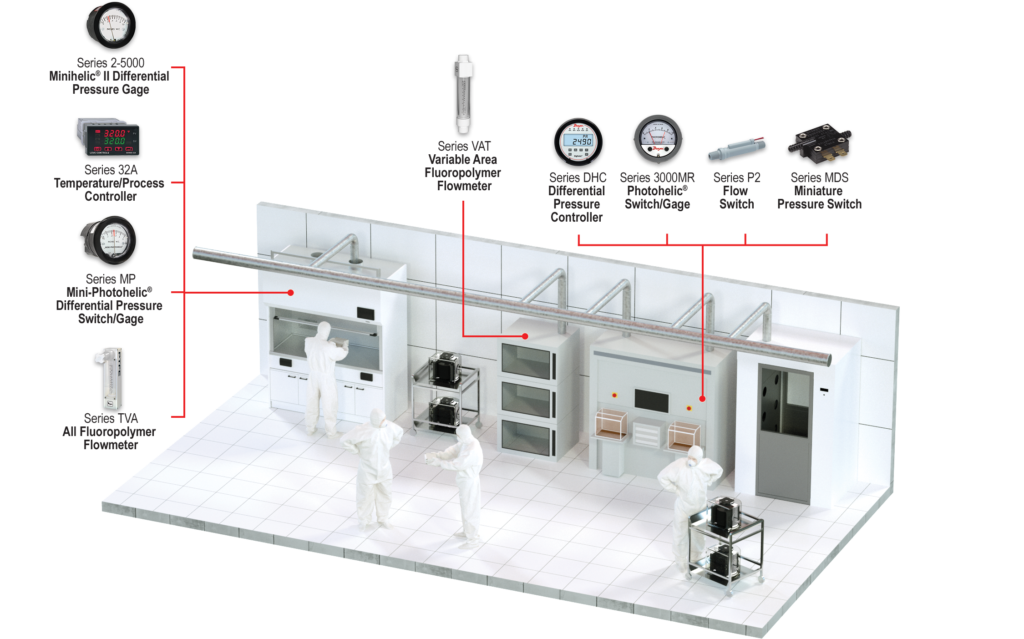 Semiconductor process tools are used for the production of microchips and other microelectronic components. These process tools are highly engineered and have a multitude of applications such as pneumatics, electrical, electronics, fume exhaust, chemical & gas distribution, radio frequency (RF) generation, and ultra-high vacuum. Dwyer products help to ensure that process tools are being monitored and controlled to the system owner's designated parameters. 
Pressure
Dwyer's pressure instrumentation is used to monitor the flow between process tools and fume exhaust systems.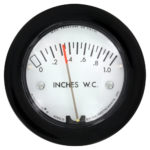 Combining clean design, small size, and low cost with enough accuracy for all but the most demanding applications our Series 2-5000Minihelic® II is easy to read and operate at total pressures up to 30 psig. It has a removable lens and rear-housing for easy, cost-effective maintenance.
The Series MP Mini-Photohelic® switch/gage combines the time-proven Minihelic® II gage with two SPDT switching set points. The Mini-Photohelic® switch/gage is designed to measure and control positive, negative, or differential pressures consisting of non-combustible and non-corrosive gases. The gage reading is independent of switch operation, and switch status is visible by LED indicators located on the front and rear of the gage.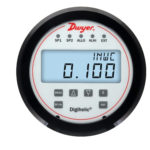 The Series DHC Digihelic® controller is a 3-in-1 instrument possessing a digital display gage, control relay switches, and a transmitter with both current and voltage outputs. Combining these three features allows the reduction of several instruments with one product, saving inventory, installation time, and cost. The Series DHC is the ideal instrument for pressure, velocity, and volumetric flow applications reading in several commonly used engineering units with optional unidirectional or bidirectional ranges. These units achieve a 1.5% or better accuracy on extremely low ranges, and 0.5% accuracy for ranges at or above 1 in w.c.
Using solid state technology, the Series 3000MR/3000MRSPhotohelic® switch/gage combines the function of a precise, highly repeatable differential pressure switch with a large easy-to-read analog pressure gage employing a durable, time-proven Magnehelic® gage design. Switch setting is easy to adjust with large external knobs on the gage face. Gage reading is unaffected by switch operation and will indicate accurately even if power is interrupted. Units can be flush mounted or surface mounted with hardware supplied. 
The Series MDS miniature pressure switch is designed with a double diaphragm to protect false actuation due to shock and vibration. This low cost pressure switch has a minimum 20 million cycle life expectancy, and an extremely fast response time.
Flow
Dwyer flowmeters monitor the inert gasses being used to purge process tool chambers.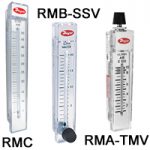 The Series RM Rate-Master® flowmeters are a line of general use, direct reading precision flowmeters suitable for both gas and liquid applications. These flowmeters have a long operation life with a durable, shatter-proof polycarbonate body. They also have high repeatability and increased accuracy due to precision injection molding around a precision tapered pin and special integral flow guides that stabilize float movement. 
The Series MM Mini-Master® flowmeter is suitable for both gas and liquid applications. Their precision molding enables high repeatability while the white back on the flow tube allows for better visibility of the float, increasing reading accuracy. Mini-Master® flowmeters are compact, requiring minimal space. 
The Series VF Visi-Float® flowmeters are a line of direct reading, precision machined, clear acrylic body flowmeters suitable for both gas and liquid applications. The fabrication of the Visi-Float® flowmeters is backed by over 60 years of experience in acrylic instrument machining. The solid, clear acrylic body and tapered bores are cut and precision machined for high repeatability. The direct reading scales are hot stamped into the plastic with a smooth white background allowing for increased reading accuracy and increased product operating life.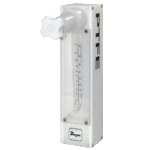 The Series TVA flowmeter is ideal for high purity or corrosive liquid applications. This series of flowmeters features a 0 to 10 scale graduations denoting a discrete flow rate.
The Series VAT flowmeter is ideal for high purity or corrosive liquid applications. This series of flowmeters features a 0 to 10 scale for flow indication. Each unit is individually leak tested to a leak integrity rating of 1 x 10-7 sccs Helium or better.
The compact Series P2 flow switch utilizes a piston-type design for both air and pure water applications. The switches have preset actuation points from 0.05 to 1.0 GPM for water and 25 CFH to 5 CFM for air. An economical and superior design makes this an excellent switch for pure water equipment, filter life monitoring, heat exchangers, and cooling applications.
Temperature
Our instrumentation controls levels in process chambers, reverse osmosis deionization (RO/DI) water heating, hot solvent, and acid processes
The Series 32A temperature/process controllers set a new standard in 1/32 DIN power, flexibility and value. This group of controls offers the highest level of features in the most compact industry standard size. Ease of use is assured with these dual display 1/32 DIN temperature/process controllers.
When it's critical, it has to be Dwyer.
Dwyer® products are used in many critical applications around the globe, in many different industries. From building control to medical applications, Dwyer® products play a vital role in keeping people safe.
If you have any questions about selecting products for your application, you can email us at info@signal.com.my or info@signal2u.co .
You can buy products directly from our website www.signal.com.my or you can also contact us for products not displayed on our website and we can email you a quotation for the products if needed.